2017 Verdelho

– $23.00 per bottle
Fruity, floral, even perfume and very aromatic. It is well balanced easy drink. Creaminess is same as other vintages. Chilled well and enjoy it! Made from Verdelho 100% from this Merton Vineyard in Upper Hunter.

2017 Rose – $23.00 per bottle
Just like a box of mix red berries! Raspberry, Strawberry and Cherry, and more. Small Forest create clean, fruity and rich Rose which doesn't disappoint you for matching many food. Made from 100% Shiraz from this Merton Vineyard in Upper Hunter. Variety – Shiraz 100%
2016 Rose

– $22.00 per bottle
Soft strawberry and stone fruit finish. Savoury with some structure dry rose is the campion food matching wine – meat, seafood, spicy food even sweets. Made from 100% Shiraz from this Merton Vineyard in Upper Hunter. Variety – Shiraz 100%

2018 Chardonnay – $32.00 per bottle   
Subtle and elegant French oaked Chardonnay. Citruses and herbs, very fine texture but very satisfying beautiful wine.  Enjoy long and lingering flavour.
More detail is coming.
2017 Chardonnay

– $30.00 per bottle –
Rich on nose also palate, but still fine elegant finish. Two different clones 548 and 96, fermented separately, and blended in the end. Integrated oak character and beautiful mouthfeel from long lees contact in barrels. Pleasant toasty and brioche like finish. Variety – Chardonnay 100% Region – Upper Hunter, NSW 100% Oak – 90% French Oak, 10% non-oaked. (50% clone 548 : 50% clone 96 )

2016 Shiraz Orange – $45.00 per bottle
This is second vintage of Shiraz from fruit grown and harvested in Orange. Clean and elegant. Still lot of sweet fruit with a hint spice,  integrated oak, and fine finish.  Variety – Shiraz 100% Region – Orange, NSW 100% Oak – 100% (35% New French Oak, 65% old French oak)
2018 Shiraz Upper Hunter 

– $36.00 per bottle 
I was waiting for this one! Such a beautiful wine it is. Beautiful dense but brilliant colour with purple hue. Fragrant is just gorgeous. As usual, Small Forest is very clean and you see the quality of fruit and careful handling. Cherry, plum, and violet. Nicely integrated with French oak, balanced and so elegant.
Upper Hunter Shiraz, this is the star! Truly beautiful wine.
100% Shiraz from Upper Hunter. Partially fermented with Wild Yeast. 100% Oaked (New and old French oak)  
*It is against the law to sell or supply alcohol to, or to obtain alcohol on behalf of, a person under the age of 18 years.*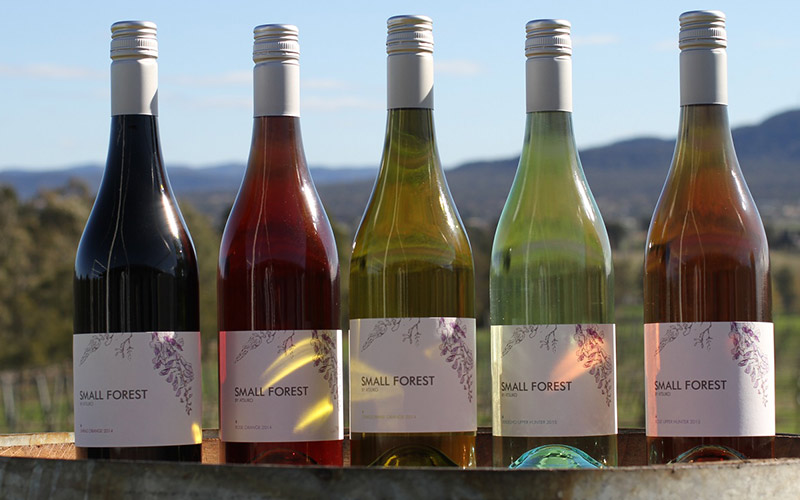 10% off for any mix of 6 pack.
---
Freight
$12 for 6 bottle or less, $20 for 12.
Sorry, we cannot deliver to PO Boxes.